Each and every day…it's a new experience. But it's our purpose.
And if we can do something in accordance with our purpose every day, it helps propel us forward.
We all have purpose, but we think mostly in terms of generalization: You know, "I aim in this direction." and "This is where I want to be in ten years…." Or whatever. Your daily moment-to-moment purpose is what drives your real behavior – what you want right now….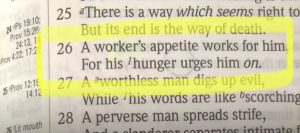 Proverbs says that a fool's empty belly presses him on. And that's pretty logical. Everybody will work for food.
So, find your purpose, and then everyday commit yourself to one act toward your purpose.
It will be less complicated. It will be less hard.
And you will have more courage because you know you're doing Right.